Life Style
News
Epic CEO Sweeney's cryptic tweet predicts Fortnite's return to the iPhone this year
You are interested in
Epic CEO Sweeney's cryptic tweet predicts Fortnite's return to the iPhone this year
right? So let's go together
Megusta.info
look forward to seeing this article right here!
Apple iPhone users used to install the popular Fortnite game on their iOS-powered handsets from the App Store until developer Epic Games wanted to offer players the opportunity to save some money on the purchase of in-game currency. So it offered Fortnite players the option to purchase in-app items from its own app storefront which means that they would avoid having to pay the 15% to 30% "tax" on in-app purchases Apple charges for using its in-app payment platform.
But aye, there's the rub. Apple doesn't allow developers to use other in-app payment platforms to be used with the App Store. So when the Fortnite app gave players an option to pay via the App Store for 1,000 V-bucks priced at $9.99, or pay $7.99 for the same purchase using Epic's direct payment platform (a 20% discount), alarm bells rang at Apple headquarters. Apple kicked Fortnite and Epic out of the App Store.
A lawsuit resulted in a mixed decision by the judge and Apple appealed the ruling. We now await the results of the appeal and there is talk of this case going all the way to the U.S. Supreme Court. But in the meantime, Apple is being forced to allow sideloading in the EU thanks to the Digital Markets Act (DMA). That means that in Europe, iPhone users will be able to install apps on their iPhones that are sourced from third-party app stores. As a result, iPhone users will be allowed to install Fortnite on their handsets.
Epic CEO Tim Sweeney says that Fortnite will return to iOS in 2023
This possible workaround didn't escape Epic CEO Tim Sweeney (via Cult of Mac) who disseminated a tweet on New Year's Eve that said, "Next year on iOS!" Apple most likely isn't going to give in and reinstate Fortnite's App Store listing. Sweeney certainly knows this and is referring to the strong possibility that iPhone users will be able to sideload the game to install it on iPhone models.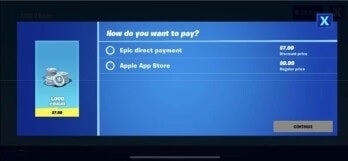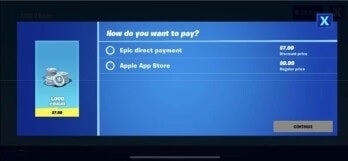 This option giving Fortnite users the option to avoid Apple's in-app processing platform is what got Fortnite kicked out of the App Store
At first, we wondered whether Apple might cave to Epic considering it might not have an opportunity to block the sideloading of Fortnite in Europe. And Apple could say that since it is concerned with its customers installing infected apps through sideloading, it will allow Fortnite to return to the App Store. But does that
really
sound like Apple to you? Or is it more likely that Apple will continue to maintain its position and hope that it wins the appeal? The latter certainly sounds more like something that Apple would do.
Conclusion: So above is the Epic CEO Sweeney's cryptic tweet predicts Fortnite's return to the iPhone this year article. Hopefully with this article you can help you in life, always follow and read our good articles on the website: Megusta.info